Free Ableton Live Pack #92: Korg Volca Beats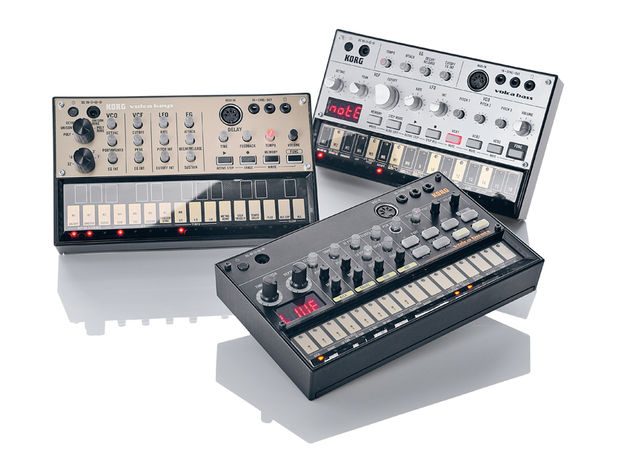 Korg's Exciting New Analog Drum Machine Sounds in Ableton!
Korg has just released a trio of really cool analog synths and drum machines. Named the Volca series, these three beasts come in Bass, Keys, and Drum machine models. At about $150, it is hard to go wrong with these guys.
I don't own any of these little guys, but Arthur Kaprelian does, and he was kind of to send over some samples. My first impression was "whoa this little drum machine sounds huge!" The file he sent over was about 6 minutes long worth of different drum hits. I sifted through them all and picked sixteen sounds and put them into an Ableton Drum Rack. If you are feeling adventurous, dig into the Project file, then the Samples folder, and feel free to grab some additional drum hits from there. Again, there are over 6 minutes worth of drums!
Bonus Audio FX Rack: Drum Smash!
As a little bonus, I created an Audio FX Rack to go along with this creation. The Drum Smash! rack adds Saturation and Compression to any sound you place it after. Simply turn the "Smash" knob and go to town. Feel free to experiment with it on sounds other than drums!
Free Ableton Drum Rack Download!
I hope you enjoy this kit as much as I do. At first, I thought this might be a good way to avoid dropping $150 on a drum machine, but after playing around with these sounds, I think I want one even more than before! Enjoy the quick walkthrough video, and get the free download just below. Big thanks to Arthur Kaprelian for the samples!
More Drums with an Analog Flavor!
If you are feeling the need for even more drum sounds with a nice analog touch, check out my Super Tape Drums Premium Ableton Pack. It's a collection of over 400 drum samples in 30 different Drum Racks, that were all recorded to my Tascam 8 track reel to reel tape machine. There's really nothing quite like the touch a tape machine gives a recording, and these drums all benefit from that analog kiss. They come in 5 different categories: 8 Bit, Drum Machines, OP-1 Drums, Live and Synthesized Drums, and Odd Percussion. The racks are designed to be useful right out of the gate, it's one of my favorite collections I have.